After many months of preparation, the Restena Foundation, via its DNS-LU team, launched on 31 August 2020, the progressive opening of .lu domain names with one and two characters over a period of 15 weeks. After two phases dedicated, firstly, to holders of trademarks and companies with one or two characters and, secondly, to sale to the highest bidder via the 1-2.dns.lu purchase/sell platform, Tuesday 15 December 2020 is the culmination with the general availability of all the remaining domain names. From now on, all registrars accredited for registration and technical management of .lu domain names can sell .lu domain names with one and two characters to their customers under their normal terms and conditions.
The results of 15 weeks of opening
15 domain names in one and two characters have been assigned upon applications to holders of validated trademark and companies with a designation or company name in one to two characters.
375 domain names in one and two characters received bids on 1-2.dns.lu, the pur-chase/sell platform specially set up by the Restena Foundation's DNS-LU team.
252 bidders, from all countries and all continents, registered on 1-2.dns.lu.
More than 2,700 bids were placed by all the bidders on 1-2.dns.lu.
4,410 € were paid for j.lu, representing the highest bid placed on the platform.
54 bids were placed for co.lu, the most popular domain name on the platform.
Around 2,400 domain names in one and two characters are available for sale via .lu accredited registrars, under the normal terms and conditions, on 15 December 2020.
20 years of unavailability of the registration of one and two characters domain names -for both security and clarity reasons - have been abolished.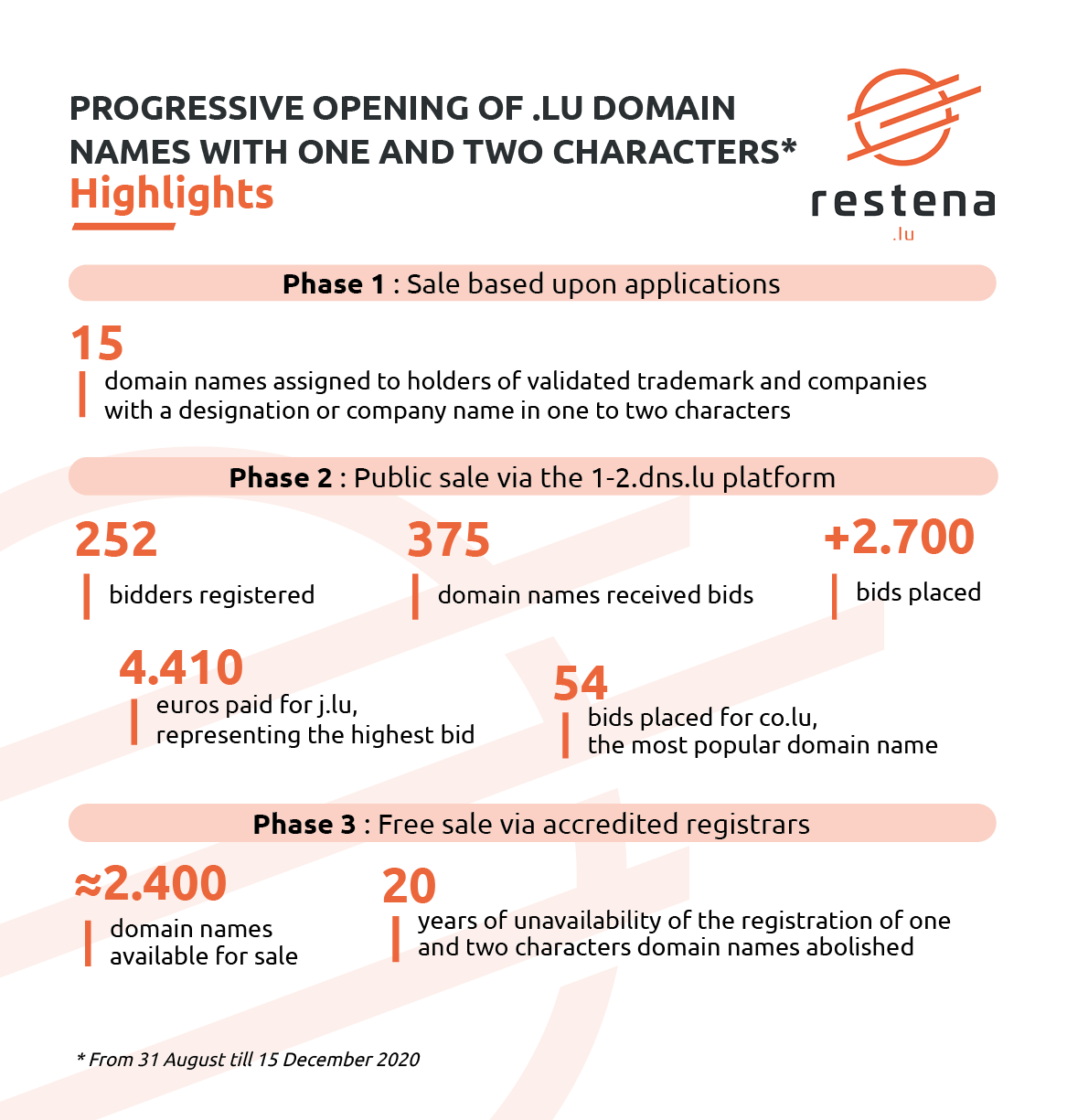 More .lu and more security
By making it possible to register short domain names, the top-level domain .lu national registry managed by the Restena Foundation meets both the need and recurring demand from corporations, institutions and individuals. However, the registry intends to go further. In the coming months, as part of the "Registry lock" project, the Restena Foundation will implement an additional layer of security, called "registry lock", which will guarantee to all holders of .lu domain names that no third parties are able to transfer, update the contact information, delete the domain name or even modify the authoritative servers without strong authentication. By locking and authenticating their domain names, anyone holding a .lu domain name will be protected from "Domain Hijacking", i.e. the hijacking of domain names by malicious third parties, and will be able to conduct their activities with complete peace of mind. 
Informations complémentaires